When witches go riding,
and black cats are seen,
the moon laughs and whispers,
'tis near Halloween.~Author Unknown
*******************************

Welcome all you PFATT Fans!

Let the FALL Fun begin!

Feel free to grab our banner above and share it on your blog along with the link here for others to sign up. Do that and let us know in your comment for an extra chance to win! Add this post to your Facebook page for yet another chance to win!

And of course....leave a comment here along with what you enjoy most about fall to be entered for a chance to win one of these wonderful PFATT Fall Giveaway offering from a few of the talented artists of Primitive Folk Art Talk & Tea Ebay Group. Don't forget to add your email address so we can contact you if you are one of the lucky winners.

You can sign up until midnight on Sunday September 11th and the winners will be announced on Monday morning.

The best of luck to all who enter!

*************************
Lori Rudolph of Retro*Rudolph's
Black cat ~ accordion paper lantern ornament (can be illuminated with a string of mini twinkle lights)
Vintage style black cat lantern ornament made of papier mache by Lori Rudolph/Retro Rudolph's
Dimensions are: 3.0" high by 2.5" wide, 4.75" high including wire handle.


This little lady is a Prim Halloween/Day of the Dead Catrina ornament by Sylvia Smiser of Anaboo Creations. She has been made out of muslin that has been stuffed, needle sculpted, painted and antiqued. She has black wool roving hair, green eyes and paper flowers to decorate her crown. This little lady has had each individual tooth, eye, and nostrils needle sculpted. She would look great decorating your Halloweeen tree or Day of the Dead tree. She is 3 3/4 inches tall and 3 inches wide.
She is a little pumpkin make do made with a paper mache pumpkin I painted,
aged and attached to a vintage candle holder. I used crepe
paper for her dress and collar and used black pipe cleaner for her
arms. I decorated her with various little leaves and she holds a little pumpkin hangtag. She stands 8 inches tall.

2011 Fall Issue of Mercantile Gatherings Magazine.
75 heavy duty glossy pages in this wonderful primitive magazine. Perfect to leave out on your prim coffee table.
Includes articles~A Gathering of Thanks, Small Town Stories, A Piece of the Past, Ramblings from Freedom Valley Farm, Making-Do-Cat Mahone, Old Time Stories from Days Gone By, Business & Web Directory, Ebay and Etsy Directory, Advertiser's Listing.
Featured Shop~Simpler Thyme, Featured Home~The Davis Homestead, Featured Shop~Spring Run Farm, Featured Designer~Pilgrims & Pioneers Primitives, Free Patterns~Piney Creek Primitives & Bittersweet Folk Art.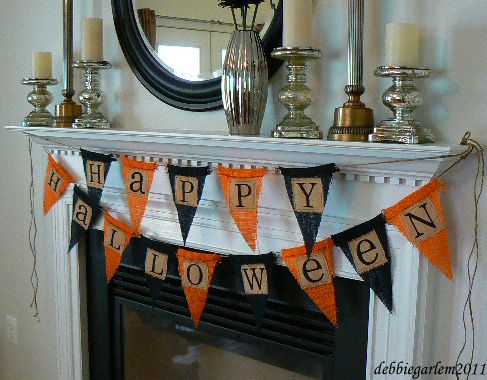 This handmade "Happy Halloween" banner is made from 6" x 9" burlap pennants with stained osnaburg squares with hand stenciled letters sewn in place. The pennants are strung together with jute. ~Debbie Garlem, Bittersweet Pastimes

Polly Pumpkin
A sweet little Pumpkin, measuring 7 inches tall.
Polly is needle felted with pumpkin color corriedale wool
Rebecca Campbell Miller of Campbell Miller Designs
This dapper little pumpkinhead is just perfect for your Halloween tree. He would look just as spectacular hanging on the wall or from a peg on a shelf! This ornie is 3.5" x 3.5". It is made of painted muslin with light batting between the muslin layers. The border has been machine quilted. It's hand-painted & sealed for protection & comes signed & dated on the back. An orange embroidery thread loop is attached.
JOL Ornie Hanger
Jack is made of painted, aged muslin. Measures about 3&3/4" in diameter.
Handdrawn face, trimmed with black tinsel grass and orange ribbon bow.
Hangs from black ribbon and has a vintage Hallowe'en image "Trick or Treat" tag tied to the other end. Signed and dated original by Diane Apperson.
Wishing you a Happy Fall and a Spooky Hallowe'en!